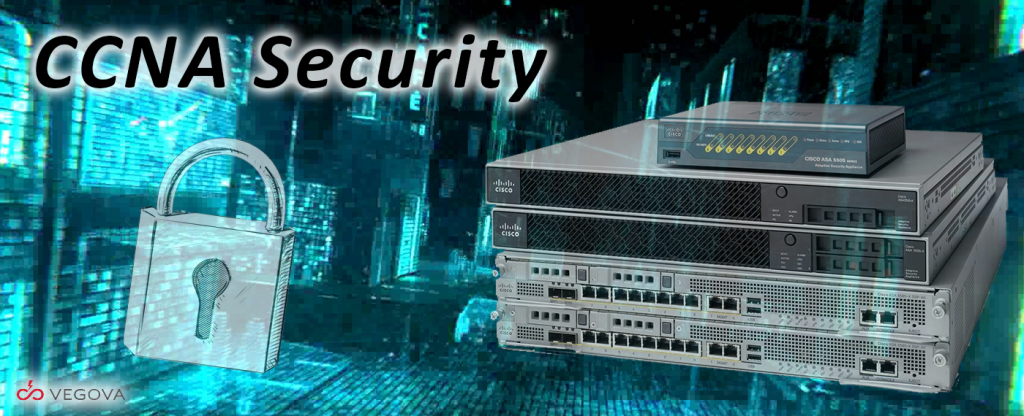 Cisco Certified Network Associate Security je tečaj na nivoju Associate s podarkom na omrežni varnosti. Kot tak predstavlja odličen začetek karierne poti v omrežni varnosti in se v tem razlikuje od klasične "Routing & Switching" karierne usmeritve. Za tečaj CCNA Security je predznanje tečajev CCNA Routing & Switching vsekakor priporočeno, ne pa obvezno. Tvarina se nadaljuje iz prvih dveh tečajev CCNA Routing & Switching.
Tečaj sestavlja 70 pedagoških ur dela, od tega:
22 ur teoretičnih vsebin
22 ur laboratorijskih vaj
6 ur priprava in izpitu
20 ur domačega dela
Vsebuje 10 vsebinsko zanimivih modulov, podkrepljenih z laboratorijskimi vajami.
Modern Network Security Threads
Securing Network Devices
Authentication, Authorization, Accounting
Implementing Firewall Technologies
Implementing Intrusion Prevention
Securing the Local Area Network
Cryptographic Systems
Implementing Virtual Private Networks
Managing a Secure Network
Implementing the Cisco Adaptive Security Appliance (ASA)
Tečaj CCNA Security bo potekal v terminu:
ob PONEDELJKIH, ob 16.15, v učilnici 107** (zaradi usklajevanja urnikov so možne spremembe)
Tečaj se začne v tednu od 18. 10. 2016 dalje in bo potekal po 4 šolske ure (2x 90 min) skupaj, predvidoma 11 tednov.
Tečaj se zaradi premalo prijavljenih ter zaradi obveznosti šole na mednarodnem tekmovanju Olimpijade poklicev – Euroskills PRESTAVI na jesen 2019. 
Hvala za razumevanje!
Naslednji tečaj CCNA Security je predviden v jeseni 2019.
Cena tečaja je 80€ za dijake (tudi bivše) Vegove, za ostale udeležence 100€. Več na: Cenik CCNA storitev
Prijave so možne do prvega termina predavanj.